SGTraDex, which stands for Singapore Trade Data Exchange, is a digital infrastructure that facilitates trusted and secure sharing of data between supply chain ecosystem partners.
Globally, there is a macro shift in trade flows and supply chains both physically and digitally. There have been momentous inefficiencies in events, documentation and financial information flows across the supply chain.
SGTraDex, created as a result of the Singapore Together Alliance for Action (AfA) on Supply Chain Digitalisation, aims to streamline information flows across a fragmented global supply chain ecosystem through a common data highway.
With this digital transformation, companies will gain the momentum to build a stronger and robust supply chain ecosystem for international trade flows. New efficiencies and opportunities will be unlocked through this collaboration where ecosystem partners come together to achieve a shared visibility of the end-to-end supply chain.
Be an early adopter and join us on this journey today!
Watch this video to learn more about SGTraDex!
HOW DOES THIS MATTER TO ME?
SGTraDex Use Cases
Use Case A: Strengthening Trade Finance And Converging Efficiencies
Current Challenge
Financial institutions have limited visibility over the physical movement of goods in the supply chain. This hampers their ability to verify trade activity. When there are fraudulent transactions or duplicated financing, various parties on the supply chain suffer damages. It diminishes the trust across the trading and financial communities.
Our Approach
SGTraDex will improve process flow efficiency, where financial institutions will be able to provide and access data directly from trusted parties, in order to reconcile trade details with the physical movement of goods. This helps supply chain players reduce dependency on physical documents, improve trade data flow and build greater trust across the trading and financial communities. SGTraDex complements other initiatives to digitalise trade documents and to mitigate against the risk of duplicate financing.
Buyers and sellers will be able to digitally track the physical movement of goods throughout the supply chain, which enhances visibility and traceability across the trade process and improves decision making process.
Use Case B: Container Flow Node Decongestion
Current Challenge
Supply chain logistics players face frequent congestions at container flow nodes, such as at warehouses and depots, due to limited end-to-end visibility of container flows. This results in high unproductive time, sub-optimal use of asset and additional costs.
Our Approach
Through SGTraDex, shipping lines, depot operators, warehouse operators and hauliers can share key operational and events data such as container bookings, time slot bookings, job management order and other related data to enhance end-to-end visibility of the logistics flow. This will improve planning and asset utilisation, increase productivity and enhance efficiency for the supply chain ecosystem partners.
Use Case C: Bunker Optimisation
Current Challenge
The bunkering industry faces two key challenges
Operational inefficiency due to the physical exchange of documentation from the lack of digitalisation, resulting in additional time and effort to undertake transactions through manual data entry.
Reduced availability of financing by financial institutions due to challenges assessing the veracity of documents from borrowers and limited visibility of operational data to verify genuineness of trade.
Our Approach
SGTraDex will increase operational efficiency by reducing duplicate processing of similar trade documents from the parties in the supply chain ecosystem, with the aim to reduce dependency on physical documentation in the long run. SGTraDex will also increase financing availability by allowing financial institutions to validate the authenticity of trade documents via data obtained directly from trusted parties and sources. SGTraDex complements other initiatives to digitalise trade documents and can potentially detect or mitigate duplicate financing by providing traceability and visibility of trade finance transactions.
Use Case D: Green and Sustainable Trade Finance
Facilitate seamless data exchange between financial institutions, corporates and trusted ESG data sources to enable empirical decision-making on Green and Sustainable Trade Finance and support sustainable growth models
Value Drivers for ecosystem partners:
Enhance operational efficiency through digitisation of certification data
Increase confidence and data availability to qualify green trade financing
Incentive adoption of green certification standards
Use Case E: Ships Supplies and Lighterage Optimisation
Digitise the relationship between buyers, suppliers and logistics operators for ship supplies to reduce the need for manual data reconciliation between nodes in the supply chain, optimise utilisation of logistics assets and enhance fulfilment visibility of ship supplies
Value Drivers for ecosystem partners:
Increase procurement and fulfilment visibility to drive efficiencies
Enhanced operational efficiency through e.g., digitisation of documents and setting commercial data standards
Use Case J: Demurrage Management & Optimisation
Improve visibility and traceability of the event status / timestamp of each activity during liquid bulk operations to manage and optimize demurrage charges and reduce manual communication required for stakeholders
Value Drivers for ecosystem partners:
Enhanced visibility for demurrage identification
Improved operational planning & resource allocation to reduce incidence of demurrage
Reduced need for manual coordination between personas
Reduce duplicative entry of time stamps
How do I get started?
SGTraDex focuses on addressing the supply chain ecosystem pain points through the development and adoption of use cases, leveraging the strong public-private partnership of the Alliance for Action model.
We welcome all interested parties to join us as development partners to drive new use cases or as participants through the adoption of existing use cases.
Learn more about our initiative and get connected through our LinkedIn page for the latest updates.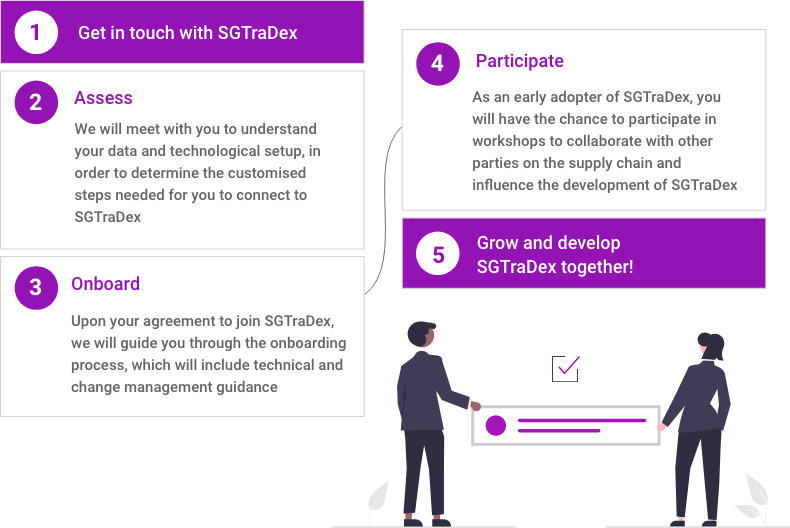 We'd love to hear from you.
Please select a topic related to your enquiry. We are always ready to answer your questions.